Chicken Berry Salad, Another Version
CoffeeB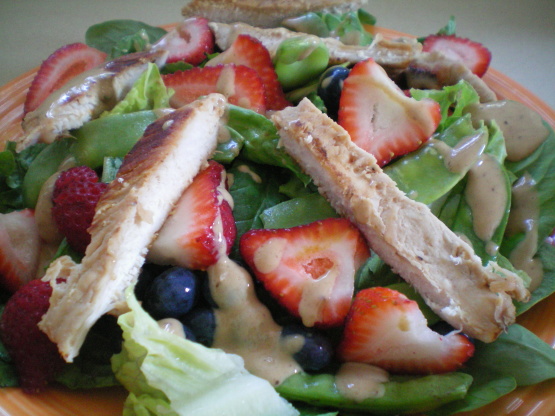 This recipe uses three kinds of fresh berries and your choice of mixed salad greens, all tossed together with grilled chicken and a special honey mustard dressing.
I love this salad for one BIG reason and that is being able to use fresh fruits. (the snap peas came from the farmers market too:-) Summer is the perfect time and then adding a grilled chicken breast, well, what could be better. I used a packet of Hellmann's Honey Dijon FF dressing for the mix. I eat a salad everynight for my supper and so am always looking for a different version than the standard veggies I normally add. I loved this Anna. The only thing I omitted was the pecans per preference and raspberries and that simply because they're so expensive. This is one recipe that I will use again! Tagged and made for PhotoTag~
In a medium bowl, prepare the dressing according to package directions, using vinegar and oil, and substituting orange juice for the water; set aside.
Preheat the grill for high heat.
Lightly oil the grill grate. Grill the chicken 6 to 8 minutes on each side, or until juices run clear. Remove from heat, cool, and slice into strips.
In a large bowl, toss together the chicken, salad greens, strawberries, blueberries, raspberries, peas, and pecans. Pour in the prepared dressing, and toss to coat.