Chicken Bean and Veggie Stew
KateL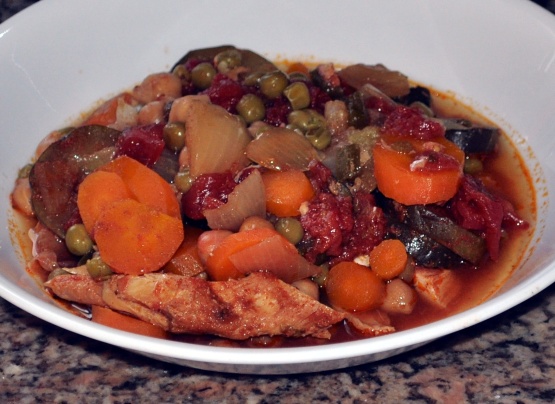 Chicken, vegetables and garbanzo beans slow cooked into a tasty, filling stew that also makes your kitchen smell equally as delicious. Perfect for a cold or rainy day!

Top Review by KateL
Please see my rating system. I believe a well-written recipe includes all ingredients and indicates how ingredients should be cut, and if the olive oil is the first to be put in the pot, please list it first to make it easy. I sliced the zucchini in thick coins, the carrots in smallish coins, the onion in large chunks. I used an entire can of diced tomatoes and garbanzo beans because I did not want to deal with leftovers. This tasted so good, DH took seconds even though he says he does not like garbanzo beans. If the recipe is revised to address my comments, please let me know and I can revise my review. This was even better the second day, so I am planning to make it again with more chicken and freeze it for future meals. Made for Spring 2013 Pick-A-Chef.
Heat the olive oil in a slow cooker. Add all the other ingredients and mix well.
Cook on low for 4 - 6 hours.