karen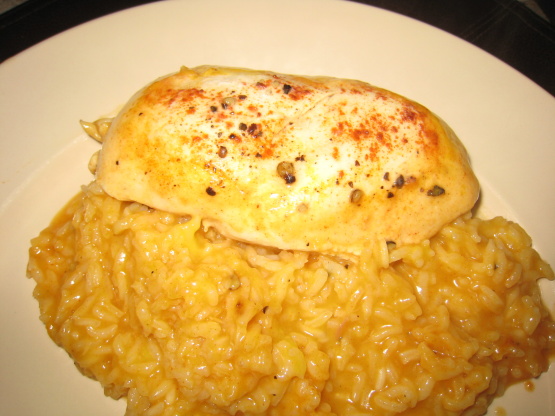 A simple throw together dish. Taken from an iVillage message board

Top Review by karen
Very easy recipe, and quick too! I used cream of chicken soup instead of cream of mushroom (that's all I had in the house) and sprinkled paprika over everything, which gave the rice a rosy color. My only complaint is that I followed the instructions for creamy rice, using 1 1/2 cup of water, and the rice ended up very soupy. It still tasted good though and the chicken was very moist for boneless/skinless chicken. Freshly ground pepper really helped give it some flavor too.
In a 2-qt shallow baking dish mix soup, water, uncooked rice, paprika, and pepper.
Place uncooked chicken on rice mixture, sprinkle with additional paprika and pepper.
Cover.
Bake at 375 degrees for 45-50 min or until chicken and rice are done.
NOTE: for creamier rice, increase water to 1 1/2 cup.