Chicken-Bacon-Ranch Wraps
Axe1678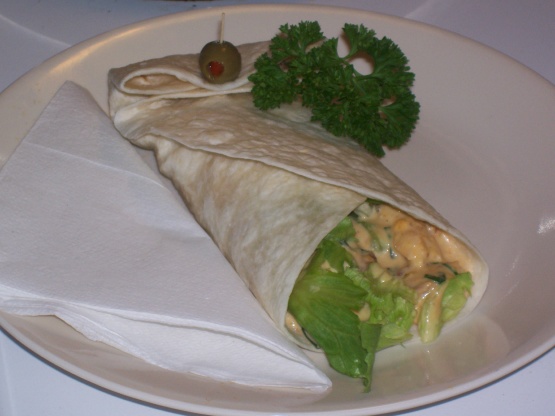 Serve these warm or cold.

I tried this for supper a couple days ago and already repeated it again tonight! I'd say that's an excellent sign that...well- I LOVE IT! I went with Axe's suggestion that it would probably taste equally good with turkey-and it sure did! I also omitted the green onion, though I'm sure it would taste great with it as well. Delicious! Thank you so much!
In large bowl, gently mix all ingredients except tortillas and lettuce.
To make 1 wrap, in small microwavable bowl, microwave generous 1/3 cup chicken mixture, loosely covered, on High 30 to 45 seconds or until hot. Spread chicken mixture on tortilla and top with 1/2 cup shredded lettuce; roll up.
Can keep mixture refrigerated in bowl up to 3 days.