Chicken Bacon Ranch Panini
gailanng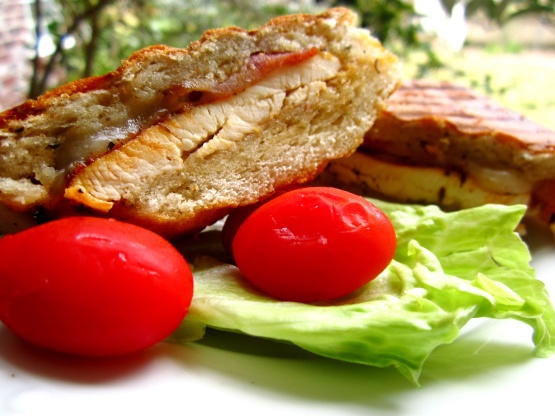 For all its simplicity, this panini is really something yummy... and a little spicy! And if you don't have a panini maker, don't fret! Just grill the sandwich in the skillet with a second (heavy) skillet on top of it to press it together. It'll make you feel inventive and nifty.

I made this tonight for my husband's family (10 people) and it was a HUGE hit! The blackening seasoning was excellent. My brother-in-laws were stealing pieces of the chicken before I even assembled the sandwiches. I used whole wheat sandwich bread and pre-toasted it in the toaster on the lowest setting to get it "crusty." Then I layered shredded mozzarella cheese, chicken, red pepper, tomato, bacon and spicy ranch. I didn't have a panini maker, so I used a George Foreman grill. YUM!!!
Panini

8

slices crusty French bread

4

tablespoons softened butter

2

whole chicken breasts, Cut In Half From Top To Bottom
blackening seasoning
red pepper
peppercorn ranch dressing

4

slices thick monterey jack cheese

8

slices pepper bacon, Cooked Until Chewy And Cut In Half
diced onion
diced green pepper

Blackening Seasoning

1

teaspoon ground basil

1

teaspoon ground thyme

1

teaspoon garlic

1

teaspoon white pepper

1

teaspoon black pepper

1

teaspoon salt (sea salt is better)

1

teaspoon onion powder

1

teaspoon cayenne pepper

1

teaspoon paprika

1

teaspoon cumin
Season the chicken breasts with salt, pepper, garlic powder, chili powder, red pepper, and the blackening seasoning.
Add 1-2 tablespoons of olive oil to a pan and cook the chicken breasts until cooked through, about 10-12 minutes. Slice into strips or shred, and set aside.
Cook the bacon.
To assemble the sandwiches, spread a generous amount of mustard on one half of the bread. Spread a generous amount of ranch dressing on the other half. (Definitely be generous; when the sandwich cooks, these will turn into more of a "sauce.").
Arrange chicken, bacon slices, and cheese slices on the bottom half. Top with the top slice. Butter both sides of the bread generously, then grill in the panini maker. (If you do not have a panini maker, you can grill the sandwiches in a skillet, laying a heavy skillet on top of the sandwich to press it together. Turn to grill the other side in the same way.).
Slice in half and gobble it down immediately.