Nimz1466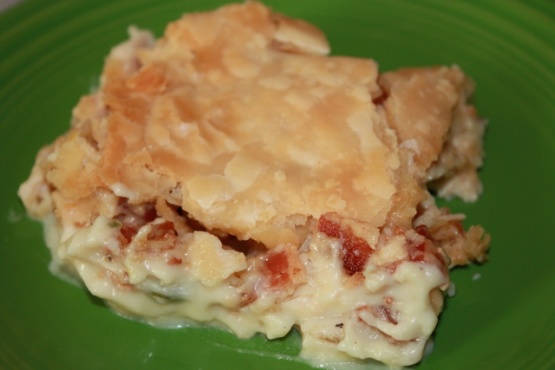 I found this in an old cookbook from the 1960's except I changed a few of the ingredients. My husband loves it!

I added diced cooked potatoes...YUM!
2

cups cooked chicken

8

slices bacon
1⁄4 cup butter
1⁄4 cup flour
1 1⁄4 cups milk

1

teaspoon chicken stock

2

frozen pie crusts
Remove one of the pie crusts from the pan and place on wax paper until soft.
Cook chicken and cut into pieces.
Heat butter and fry bacon in butter.
Stir in flour and cook for 2-3 minutes over medium heat.
Add milk and chicken stock. Cook until thickened.
Add chicken and bacon to mix.
Put into pie crust and cover with the other pie crust.
Bake at 400 degrees for 20 minutes.