Prep 15 mins
Cook 2 hrs 12 mins

My hubby found this in a copy of Southern Living at work. These are super easy and great tasting little appetizers. If you want, you can use reduced-sodium bacon and lite soy sauce to cut back on the sodium. I don't think they need any dipping sauce as the marinade provides a tangy/sour/sweet flavor. Cooking time includes marinade time.
Directions
Cut chicken breasts into 24 1-inch cubes.
Wrap each chicken cube with bacon and secure with a wooden toothpick.
Stir together orange marmalade, soy sauce, sesame oil, ground ginger and minced garlic in a shallow dish or large zip-top freezer bag; add chicken nuggets.
Cover or seal, and chill 2 hours, turning occasionally.
Coat a rack and broiler pan with cooking spray.
Place chicken nuggets on rack in broiler pan.
Bake at 450°F for 10 minutes; turn nuggets and bake 10 more minutes.
Most Helpful
Delicious! And so easy to make!! When I saw marmalade in the ingredient list I was a little skeptical as I'm not a huge fan, but once the chicken was marinaded and cooked, it tasted amazing, so I'm glad I put the marmalade in now! A great recipe for when you have people coming over and need something quick to make!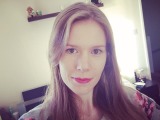 I made these for a New Years Eve party, and they disappeared in no time. I left off the bacon and marinated the chicken in the rest of the ingredients all day. I was planning on wrapping the bacon right before cooking, but got lazy and just left it off - they were delicious as is. The bacon would probably add another layer of deliciousness, and I'll make them again and not be so lazy.
just finished making these for our tailgate party today. Smeeled awesome when cooking, I took a taste and loved them. Thanks for sharing. Made for Football Pool week 6