Chicken Bacon Cheeseburger Deluxe
Nimz1466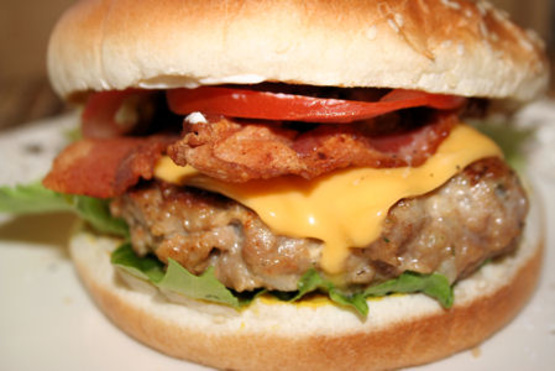 I found this recipe on the Internet and revised it a bit. I made this for my family using homemade hamburger buns and they loved it! The burger patty is juicy and delicious. And it's a (kinda) healthier alternative since I used chicken instead of beef. Serve it with oven fries for a delightful meal.

This was just excellent. The flavors went so well together. I used ground turkey because I couldn't find ground chicken at the store, but I know it would be great with chicken too. I've never had a turkey burger before so this was a first for me. The burger was so moist and juicy. So glad I chose this recipe for My Three Chef 08 because I may never have beef burgers again. Thanks so much for sharing.
Combine chicken, eggs, onion, bread crumbs, Parmesan cheese, salt, baking soda, pepper and oregano in large bowl; mix well.
Shape chicken mixture into 4 patties.
Heat butter on grill until butter melts; add patties.
Cook until patties are no longer pink in center, 4 to 5 minutes on each side.
Place 1 slice cheese on top of each patty.
Cook until it melts a little.
Spread each bun with mayonnaise on one half, and mustard on another; arrange 1 lettuce leaf on bottom half of each bun.
Put bread slices on grill for a few seconds.
Top with chicken patty, bacon, tomato slices, a dollop of ketchup and top half of bun.
Serve hot.