Chicken, Bacon and White Bean Soup Portuguese Style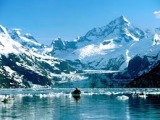 One of Emeril Lagasse's favorites. This is a soup his mom would always cook. He describes it as a stick-to-your-ribs soup. Enjoy! *Note: the dried beans need to soak for at least 8 hours. You could do that overnight* (For a quick soak, bring the beans and water to a boil over high heat and cook for 2 minutes at the boil, then remove from the heat and allow to stand for 1 hour. Drain.) Prep time does not include soaking the beans.
Directions
Put the beans into a large pot.
Add water to cover by 2 inches and soak for at least 8 hours or overnight.
Then drain.
Fry the bacon in a heavy stockpot over medium-high heat until crisp, about 7 minutes.
Use a slotted spoon to lift onto paper towels to drain.
Pour off all but 2 tablespoons of the bacon fat from the pot.
Add the onions and celery and cook, stirring occasionally, until tender, about 4 minutes.
Add the shallots, garlic, bay leaves, salt and cayenne.
Cook, stirring occasionally, until the shallots soften, about 1 minute.
Add the beans to the pot with the stock, and bring to a boil.
Reduce heat to medium-low and simmer, uncovered, stirring occasionally, until the beans are tender, about 1 1/2 hours.
Stir in the chicken and the reserved bacon and heat through.
Remove and discard bay leaves.
Ladle into warm bowls and sprinkle with the grated cheese.
Most Helpful
Absolutely delicious! I added 3 small potatoes diced very small and some sort of very small pasta, just to make it a little more hearty. I will defiantly make this again. Made for NZ/AUS Recipe Swap #34
I very much enjoyed this soup! Used Great Northern beans, turkey bacon and the chicken that comes in the packet like tuna does. Didnt have the bacon grease so I added olive oil to saute the vegetables in. Instead of the cayenne pepper I added a pinch of red pepper flakes. Couldnt wait for the soup to get done as it smelled delicious and it tasted just as good! Light, simple, and flavorful soup I enjoyed for lunch. When finished dieting will make this again with real bacon. Thank you for sharing LIF! Made and reviewed for the Culinary Quest 2016 - Azores required.

Very good! I made the recipe as directed. It was delicious.