ImPat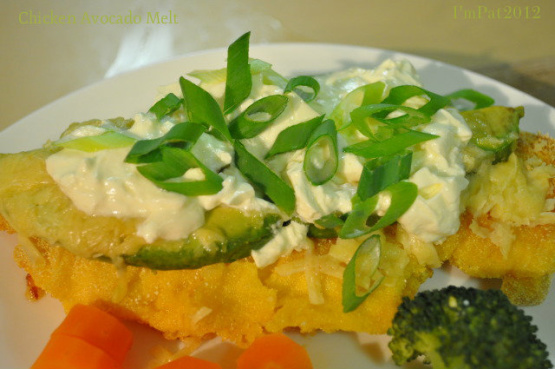 This recipe combines some of my favorites! Chicken, avocado, monterey jack cheese, and green onions! This makes some great baked chicken. Just make sure you pound your chicken breasts so they are an even thickness so it all gets done at one time. My grocery store sells chicken breasts cut thinly that I like to use for this and eliminate the pounding. :) I also like to eat these on sandwiches, and add the toppings to the sandwiches.

Top Review by ImPat
Went to the deli this morning to purchase the half chicken breasts for this recipe and well they were huge so only purchased 2 (for 3 persons) and well they weighed in at just over 350 grams each for each half so just sliced them in half and proceeded with the recipe from step 2 but could not fit all 4 pieces of chicken in the tray but no problem just finished cooking off the 4th piece in the pan and cooked up the remaining 3 as per recipe, did use up more cheese than recommended, but we do love it, and used a whole avocado for the 3 serves and just garnished with the spring/gren onions as I had no capsicum/peppers and we thoroughly enjoyed Also rally enjoyed using the cornmeal (though I used polenta but think they are the same) as the crumb coating, made a nice change from bread crumbs. Thank you breezermom, made for Photo Tag game.
Place the chicken breasts between 2 sheets of wax paper. Flatten them to 1/4 inch thickness, using a meat mallet or a rolling pin.
Combine the cornstarch, cumin, and garlic salt in a small bowl, stirring well.
Combine the beaten egg and water in a small bowl, stirring well. Place the cornmeal in a shallow plate. Dredge the chicken in the cornstarch mixture; dip in the egg mixture, and then dredge in the cornmeal.
Saute the chicken in oil in a large skillet for 2 minutes on each side or until lightly browned. Transfer the chicken to a 13 x 9 x 2 inch baking pan.
Arrange the avocado slices over the chicken, and sprinkle evenly with the shredded cheese. Bake, uncovered, for 15 minutes or until the cheese melts and the chicken is done. Top with sour cream, green onions, and sweet red pepper. Garnish if desired.