Patty R.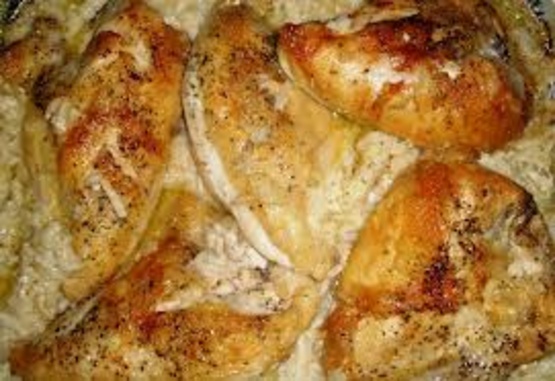 This recipe comes from Pillsbury Kitchens' Family Cookbook. Chicken is baked on top of a rice mixture. There are variations to this recipe using stuffing instead of rice, and pork chops instead of chicken.

Very tasty, easy to make. Made for PAC spring 08. Thanks for sharing.
Heat oven to 375 degrees. In 13x9 inch pan, combine first 7 incredients, mix well. Arrange chicken on the rice mixture, skin side up, drizzle with butter. Sprinkle with 1/2 teaspoon salt, paprika and poultry seasoning. Bake uncovered at 375 degrees for 1 hour or until chicken is tender.
Tips: For chicken atop dressing, substitute 8-oz pkg. herb-seasoned stuffing mix for rice. Omit first 1/2 teaspoon salt. Bake covered with foil at 375 for 1 hour; remove foil and bake 30 minutes longer. This makes a moist dressing. If you prefer a drier dressing, decrease water to 1 1/2 cups.
Wild rice can be substituted for half of rice.
For pork chops atop rice, in large skillet, brown 6 pork chops. Arrange pork chops on rice mixture, omit butter.