3 Reviews
This smelled wonderful as it cooked throughout the day. I used bone-in, skinless chicken thighs (my family likes dark meat) and brown & wild rice. I chopped everything the night before, then cooked the bacon & veggies in the morning. The recipe went together pretty quickly and we had a comfort meal waiting for us when we got home. The chicken is fall-off-the-bone tender! The only thing I thought it needed was salt and pepper. Thanks for a great slow cooker recipe!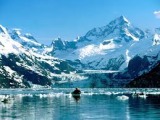 It is awesome! My family of 4 cleaned it up real good! Plan to use it again soon. Oh, I didn't use red bell pepper, dried marjoram and wild rice because I didn't have them. I used white rice instead and it's great!
Made for KK's Forum Mini Cookathon. Made per the recipe and although the flavor was wonderfully delicious I believe either I need to use a different Wild Rice or more of it because it came out really soupy. Will try again another time with more rice. Thank you for the recipe. Please accept my apologies, I neglected to adjust for the difference in altitude, an hour later rice was nicely cooked and sauce not so thin...just gotta remember that I live @3200 ft above sea level and this means I must start these slow cooker meals earlier. Thank you for a wonderfully tasty meal.

Chicken and Wild Rice Slow Cooker Dinner