Chicken and Wild Rice Salad
CFRP3473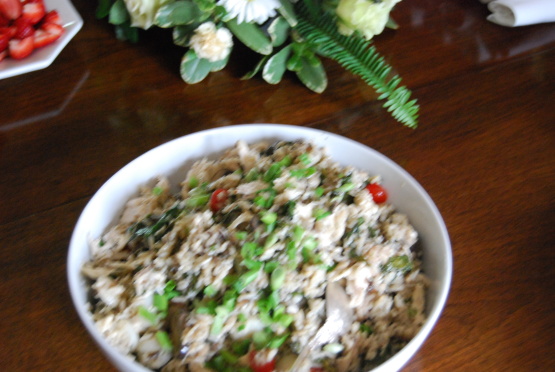 This is the perfect recipe to make for lunch or brunch. It is elegant enough to serve at a bridal luncheon of any kind but easy enough to throw together if you're just having some friends over. It also makes an easy weeknight dinner - especially in the summer when you don't feel like cooking. It can be made ahead (although don't add the green onions or tomatoes until just before serving or they might get a little soggy).

This was absolutely scrumptious. I took it to a party and there wasn't much left (to my dismay). I used grape tomatoes instead of cherry, but I don't think it would make much difference. Lots of cutting, so give yourself time. You can also make the chicken and rice the day before. dancerjan
1

(6 ounce) package long grain and wild rice blend (Near East or Uncle Ben's)

2

cups chicken, cooked and cut up or shredded

3

green onions, sliced

10

cherry tomatoes, halved

1

(4 ounce) can water chestnuts, drained and halved

1

(8 ounce) package mushrooms, sliced

1

tablespoon butter (optional)

1 -2

tablespoon dry sherry (optional)

1

cup firmly packed spinach, chopped

1

(12 ounce) bottlegirard's light champagne vinaigrette, to taste (or your favorite salad dressing)
Cook rice according to package directions, omitting butter and using only 1 1/2 - 2 cups water. Cool.
Saute mushrooms in butter and sherry. (This step is totally optional). Add to rice mixture.
Add salad dressing to taste. If making the salad in advance, reserve a little salad dressing to add in just before serving.
Mix remaining ingredients and chill.
If making more than a couple of hours in advance, do not add the tomatoes or green onions until right before serving.
The recipe doubles and triples very easily, making it great for entertaining.