Chicken and White Bean Stew
GaylaJ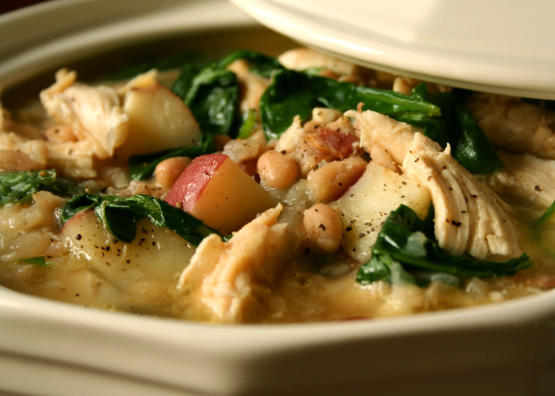 Hearty and delicious. Adapted from Rachael Ray, the recipe takes a few shortcuts (like purchased rotisserie chicken and canned beans) to ensure it's easy and quick. :) I picked up a loaf of Italian bread and made Provolone Garlic Bread to go with it, which made for a simple, but comforting and tasty meal on a chilly night.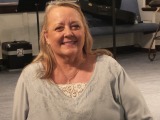 Top Review by NAN M.
Very good! I had a bowl of baby limas that I had cooked with ham in the fridge. I added that in place of one of the cans of beans, added a little more garlic and some cyan pepper for a little spice because after tasting the original recipe I found it a little bland. I also added about a cup of chopped mushrooms that I wanted to use up. I thought it was very good. Served with cornbread and my husband liked it a lot.
4

slices bacon, finely chopped

1

onion, finely chopped

2

garlic cloves, finely chopped

1

lb red potatoes, cut into cubes

32

ounces chicken broth (I added a little more)

1

rotisserie-cooked chicken

2

(15 ounce) cans small white beans, drained and rinsed (I used navy beans)

5

ounces baby arugula
salt and pepper
In a large soup pot or Dutch oven, cook the bacon over medium heat until cooked, but not crisp (about 5 minutes).
Add the onion and garlic; cook, stirring, until softened (about 5 minutes).
Add the potatoes and chicken broth; simmer until the potatoes are just tender (about 15 minutes).
Meanwhile, pull the meat off the rotisserie chicken, discarding skin and bones.
Add the chicken and white beans to the stew; cook until heated through.
Just before serving, stir in the arugula and season to taste with salt and freshly ground black pepper.