Chicken and White Bean Chili
CandyTX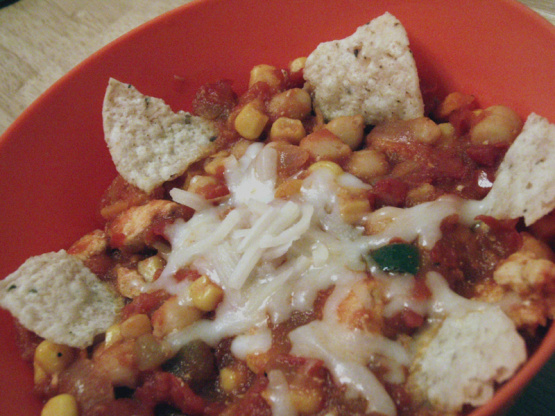 A spicy but not too hot, hearty and healthy red Chili.

This was pretty good... we left out the chipolte chiles (kids) and used chick peas instead of white beans. It had a really nice flavor and my kids devoured it :) If we make this again, we would use some more spices. I bet this will be REALLY good as leftovers once the flavors get through it. I made this for the Fall '06 Pick-A-Chef!
For the marinade, whisk together the lemon juice, oil, paprika, salt and pepper.
Add chicken breasts and let marinade at least 10 minutes, up to 1 hour.
Grill chicken until cooked through. (You could use a fry pan or broiler if you wish).
When cooked through, wrap loosely in heavy duty foil and let rest 10 minutes before dicing into 1/2" cubes.
Toss chicken cubes with flour and set aside.
For the soup base, heat a large pot over medium heat, then add onion, garlic, jalepeno, anaheim, and carrot. Cook for 10 minutes or until vegetables are translucent.
Add tomatoes, beans, chicken broth, chili powder, cumin, and chipotles. Let simmer for 10 minutes.
Add flour coated chicken to pot along with the water (add extra later on if its too thick). Cook 5 minutes or until raw flour taste is gone.
Remove from heat and add corn.
Serve and enjoy!