Chicken and Veggie Pie With Phyllo Top
Baby Kato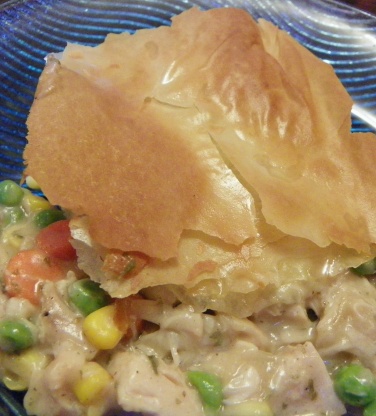 From the Australian Women's Weekly Meals in Minutes Chicken. Use a whole rotisserie cooked chicken. A quick easy mid week meal. The original recipe called for 1 medium leek (350g) finely sliced (I used spring onions) and 2 1/2 cups (350g) frozen peas, corn and capsicum (bell peppers) mix but any frozen vegetable mix should do (I used peas, corn, carrots and broccoli). You could even make up up your own mix of individual frozen vegetables.

This is really good! I made my own veggie mix consisting of carrots, onions, a bit of green onion, celery and green pepper. I had to quickly add the phyllo top otherwise there would have been nothing to cover up, because I couldn't stay away from it. The filling would also be great in tartlets.
60

g butter

2 -3

spring onions (finely chopped)
1⁄3 cup plain flour (50 grams)

1

cup milk (180ml)

1

cup chicken stock (250ml)

4

cups chicken meat (cooked and shredded or diced - 400 grams)
2 1⁄2 cups frozen mixed vegetables (350 grams)
1⁄4 cup parsley (fresh loosely packed and then coarsely chopped)

4

sheets phyllo pastry
cooking spray
Preheat oven to 220 degree celcius (200 for fan forced ovens).
Mix milk and stock together.
Melt butter in large saucepan, cook spring onion (or leek if using could need 1 to 2 minutes), stirring until softened.
Add flour, cook, stirring until mixture bubbles and thickens.
Take off the heat and gradually whisk in milk and stock mix until smooth. Return to heat and continuously mix until mixture boils and thickens.
Add chicken, vegetables and parsley, stir until heated through.
Spoon chicken pie filling into a shallow 1.5 litre (6 cup) ovenproof dish.
Place one sheet of pastry over filling; spray with cooking oil spray. Repeat this process with remaining pastry sheets, overlapping pastry around dish. Roll and fold pastry inwards towards centre around edge of dish (forming a roll around the edge). Spray top of pastry with cooking oil spray.
Bake uncovered, in hot oven for 10 minutes.