Chicken and Vegetable Supper Soup
Boomette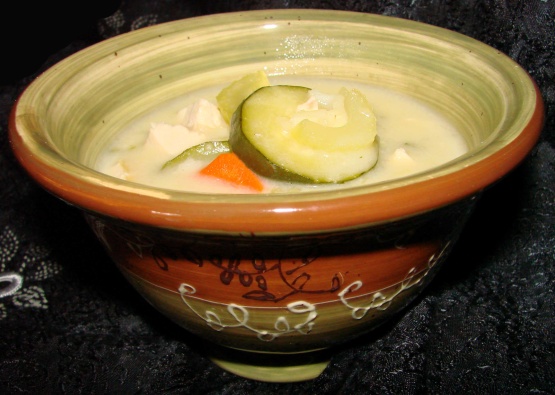 This recipe is from one of the best recipe books I have ever had, Favorite Recipes II from Sunset Magazine. Every recipe I have ever tried is great. I used some canned chicken broth and when I ran out, I used Better than Bouillon Chicken Base. It was delicious. I used boneless, skinless chicken thighs.
This soup is great. I've never made a soup with a white sauce, rice and chicken. Usually I have that in restaurants. And this one is better than in restaurants. I used low-sodium chicken stock. I used 2 medium zucchini. Instead of 6 tbs of butter, I used only 3 tbs and used 3 tbs of water to combine with the flour. I thickened the sauce in the microwave. I used skim milk. I omitted the green onion. I used no-salt seasoning. Thanks Lynn :) Made for Please Review My Recipe
In a 5 qt kettle over high heat, bring broth to boil.
Add rice, cover, and reduce heat.
Simmer for 10 minutes.
Add carrots, celery, and zucchini, cover and simmer until veges are crisp-tender(about 10 more minutes).
In a small pan, over medium heat, melt butter.
Blend in flour with butter and cook, stirring until bubbly.
Gradually stir in half-and-half.
or milk. Stir in 1 C of broth from soup mixture. Continue cooking and stirring until sauce boils and thickens. Add to soup mixture.
Add chicken and green onions. Season to taste.
Cook until just heated through.
Sprinkle with parsley.