Chicken and Vegetable Stir Fry
Bergy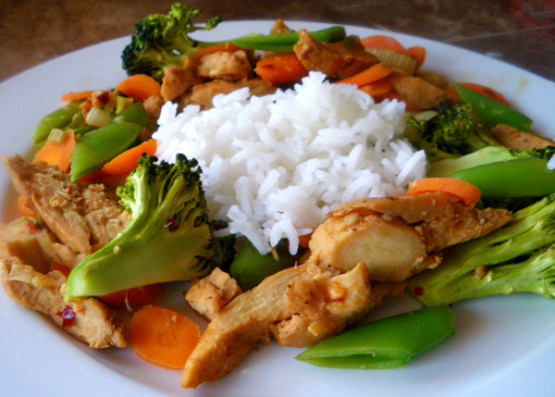 This came from a diabetic cook book and is very easy and very delicious. Dinner can be ready in 20 minutes, aside from marinading.

Did I read this recipe correctly? It says to reuse marinade from raw chicken and then just heat it for 2-3 minutes! That seems like a very bad idea.
In a glass dish, combine water, soy sauce, vinegar, garlic, onions and chicken and refrigerate for at least 2 hours.
Drain chicken and reserve marinade.
In a large skillet or wok, heat sesame oil over medium-high heat until hot.
Add chicken and cook, stirring constantly, until chicken loses it's pink color.
Remove chicken Add celery, carrots, and broccoli and cook, stirring, for at least 3 minutes.
Add pea pods and marinade and cover.
Let vegetables steam for 2-3 minutes Add chicken and sesame seeds and stir to combine Vegetables should be crisp-tender, pea pods still bright and green.
Serve with rice.