Chicken and Vegetable Paninis With Tarragon Mayonnaise
Kim127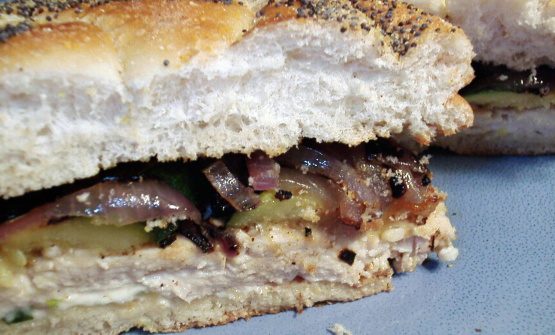 Top Review by Kim127
One of my choices for the Spring 2007 PAC contest. Another winner from Karen in OC. Quick to put together and just wonderful tastes. I did double the onion, just for personal preference, and my panini lacked the tomato, but DH had them on his (just can't eat a raw tomato). The tarragon was perfect with the chicken. As an added benefit, no dishes to clean up! Thanks Karen!!!
Blend first 3 ingredients in bowl; season mayonnaise with salt and pepper.
Using meat mallet, flatten chicken breast halves in plastic bag to 1/2-inch thickness; cut chicken crosswise in half. Place on sheet of foil. Brush chicken with 1 tablespoon oil; sprinkle with half of garlic, then salt and pepper.
Place zucchini and onion slices on sheet of foil and brush with remaining 2 tablespoons oil; sprinkle with remaining garlic, then salt and pepper.
Prepare barbecue (medium-high heat). Grill chicken pieces until cooked through, about 5 minutes per side; transfer to work surface. Grill vegetables until softened slightly and charred, about 7 minutes per side for onion and 5 minutes per side for zucchini. Transfer to work surface.
Grill rolls until toasted, about 2 minutes per side. Spread tarragon mayonnaise on roll bottoms; top with 1 chicken piece, 1/4 of grilled vegetables, and 2 tomato slices. Cover with roll tops.