Chicken and Vegetable Burger Patties
Jubes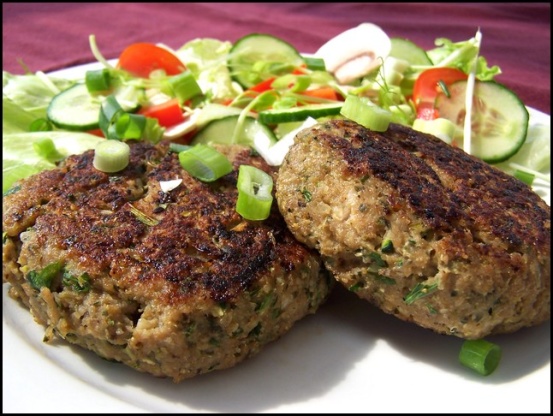 This was a recipe I came up with when I started trying to lose weight with Sure Slim. It uses Cruskit crispbreads or crackers and follows the "rules" of the diet. Cruskits are those revolting puffed crispbreads that you buy thinking that you are being good but then don't eat. I found that they make an excellent binder for burgers.

Tasty, but I agree with the other comment below about using better measuring components would be very helpful. I think to use an amount of 400 grams for the ground chicken is kind of strange and why almost a lb instead of one pound. You have an amount in mind when mixing in the other ingredients and others wouldn't. For consistency sake you should use standard measuring amounts to be usere friendly amounts. I generally won't fool with a recipe in grams and such, which most other cooks would not either. But I had to give this a try and glad I did. Most people do not know how many grams are in an ounce.
Put the Cruskits in the food processor and grind to a fine breadcrumb consistency. Tip the crumbs into a bowl.
Put the rest of the ingredients except the chicken into the food processor and pulse until finely chopped.
Note: Resist the temptation to do the Cruskits and vegetables together. You'll end up with a gluggy mess that is difficult to get out of the food processor.
Add the chicken and vegetables to the crumbs and mix together quickly. The crumbs absorb the liquid and become sticky so the quicker you can work, the easier it is to combine everything evenly. I get into it with my hands.
Divide into 4 large patties or 8 small ones, about 1.5 to 2 cm thick. Grill for 7 minutes on each side.
Serve in a pita bread with lettuce and tomato or serve as a main dish with vegetables.
These patties can also be baked in a hot oven. I also make them into meatballs and bake them then freeze them. They can be added to stock and bok choy for a very quick meal.