Chicken and Sweet Potatoes Casserole
loof751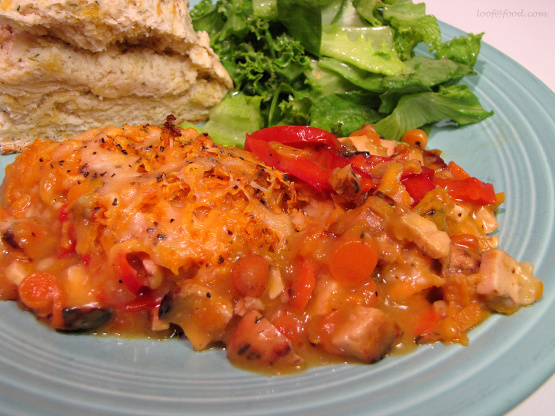 Yummy and different. I used cubed sweet potato in the casserole rather than grating over the top. The chicken I used had been marinading in Italian dressing so I used some of that in the sauce to replace the broth and I sprinkle basil, garlic, and oregano over the top with the salt and pepper.
With the rack in the middle position, preheat the oven to 190 °C (375 °F).
In a skillet, preheat the oil. Sauté the vegetables over medium heat for about 5 minutes. Add the cooked chicken. Season with salt and pepper.
Spoon into a 38 x 20-cm (15 x 8-inch) baking dish.
Sauce: In a saucepan, melt the butter. Add the flour and cook while stirring for 1 minute. Gradually add the broth, stirring constantly with a whisk or a wooden spoon. Cook over medium heat until the sauce thickens. Pour over the chicken.
Filling: Combine the sweet potatoes and mozzarella. Scatter that mixture over the dish. Season with salt and pepper. Bake for about 30 minutes.
This recipe freezes well.