Chicken and Sun-Dried Tomato Orzo
gemini08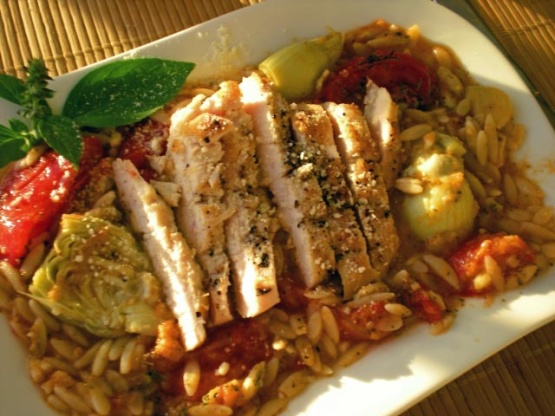 Sun-dried tomatoes and Romano cheese pack a flavorful punch along with the tantalizing aroma of fresh marjoram in this rustic Italian-inspired dish. Serve with sautéed fresh spinach or steamed broccolini.From EatingWell magazine, March/April 2008. Dietary Exchanges: 3 starch, 1 vegetable, 3 lean meat, 1/2 fat (3 Carbohydrate Servings).

Wonderful flavors, loved the marjoram with the dried tomatoes and artichokes! I planned ahead and roasted my own tomatoes and garlic for the sauce. I did use chicken stock instead of water but otherwise followed the recipe to a T. This came together in a jiffy, was light and flavorful, perfect for a weeknight. Made and reviewed for PAC Fall 2012
Cook orzo in a large saucepan of boiling water until just tender, 8 to 10 minutes or according to package directions. Drain and rinse.
Meanwhile, place 1 cup water, 1/4 cup sun-dried tomatoes, plum tomato, garlic, 2 teaspoons marjoram, vinegar and 2 teaspoons oil in a blender. Blend until just a few chunks remain.
Season chicken with salt and pepper on both sides. Heat remaining 1 tablespoon oil in a large skillet over medium-high heat. Add the chicken and cook, adjusting the heat as necessary to prevent burning, until golden outside and no longer pink in the middle, 3 to 5 minutes per side. Transfer to a plate; tent with foil to keep warm.
Pour the tomato sauce into the pan and bring to a boil. Measure out 1/2 cup sauce to a small bowl. Add the remaining 1/4 cup sun-dried tomatoes to the pan along with the orzo, artichoke hearts and 6 tablespoons cheese. Cook, stirring, until heated through, 1 to 2 minutes. Divide among 4 plates.
Slice the chicken. Top each portion of pasta with sliced chicken, 2 tablespoons of the reserved tomato sauce and a sprinkling of the remaining cheese and marjoram.