Chicken and Strawberries over Mixed Greens
CoffeeB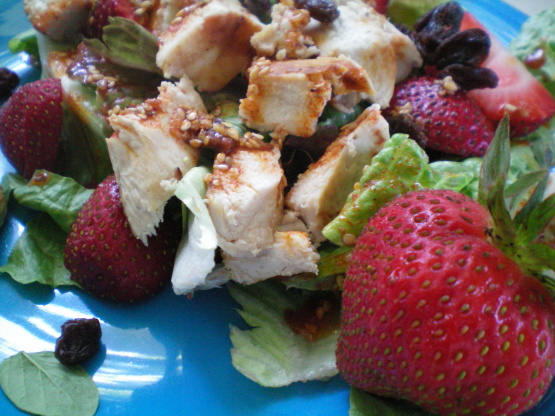 I haven't made this one yet, but I love the combination of strawberries and greens. This seems easy to put together after a busy work day 1 hour prep time is for chilling

Okay, so my kids didn't love it, but they all liked it enough to eat it... big plus! I loved it and will definitely make it again. It was very easy and quick and a great use of leftover rotisserie chicken. I used craisins instead of raisins and used 1/4 cup instead of 2 T. I used twice as many greens (actually spinach, but a spring green mix would have been great if I had it on hand). I also made two dressing portions and tossed one with the doubled amount of greens... still a light recipe. Thanks!
Combine first 5 ingredients in a large bowl.
Combine sesame seeds and next 6 ingredients (sesame seeds through pepper) in a small bowl, stirring well with a whisk.
Pour over chicken mixture; toss well to coat.
Cover and chill 1 hour.
Serve over salad greens.