Chicken and Spinach Quiche
AlohaBEL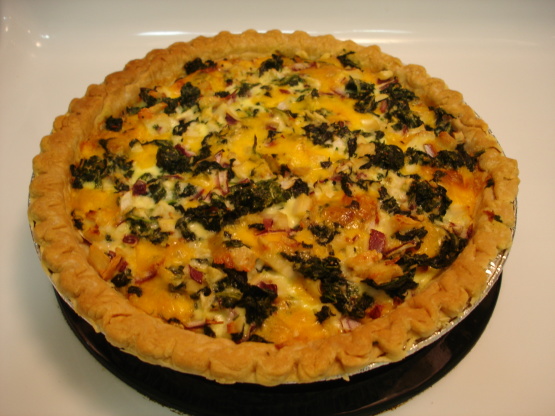 This recipe was given to me by my Diet Doctor. I really liked this recipe.

I was so happy with this quiche. I used 4 eggs, about 4 oz fresh spinach, 3/4c lowfat yogurt instead of mayo, and skipped the milk. I used 1/8t garlic salt instead of plain salt. I mixed mozzarella and cheddar cheese. I put Parmesan cheese, 8 crushed saltines and a sprinkle of Emeril's seasoning over the top, Like some other reviewers, I baked it an extra 10 minutes. It was so yummy!
preheat oven to 375 degrees.
Pierce pastry shell thoroughly with a fork.
Bake at 375 degrees for 10 minutes.
In a large bowl mix chicken, onion, cheese, and spinach.
Spoon into pastry shell.
In a small bowl wisk eggs, milk, seasonings and mayonnaise until smooth.
Pour over chicken mixture.
Bake at 350 degrees for 40 minutes or until golden brown and a knife inserted in the center comes out clean.