Chicken and Spinach Lasagna
Ninna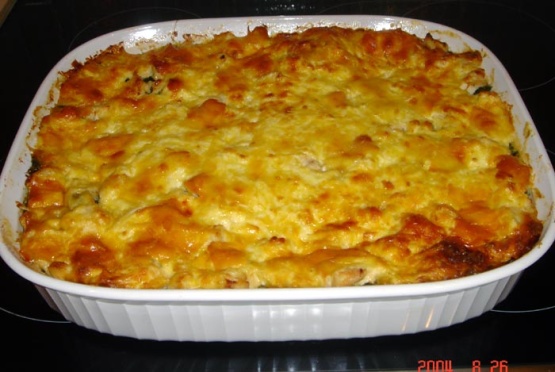 This recipe makes a lot, but it will freeze well should you decide against grazing over leftovers for a few days, and it's certainly worth making extra if you are going to go to all the trouble of making lasagna in the first place.

This was fantastic! The one downside was that I ATE way more than I should have, ruining the supposed first day of my diet :) Thanks so much for the great recipe - I will use it again. BTW I didn't have any milk so I tried about 2/3 cup 1/2 and 1/2 and the rest water - worked out great.
In a medium saucepan, cook onion in butter until tender.
Stir in cornstarch, basil, garlic powder and nutmeg.
Add milk all at once.
Cook and stir until thickened and bubbly; stir in spinach.
In medium bowl, stir in together Ricotta and egg.
Add mozzarella and half of parmesan; mix well.
Preheat oven to 350 degrees.
Arrange three of the uncooked lasagna pieces in bottom of a greased 12x7 rectangular baking dish.
Top with half of spinach mixture, half the cooked chicken and half the Ricotta mixture.
Repeat layers.
Top with remaining Parmesan cheese.
Now tent the baking dish with foil and seal well (you don't want the foil touching the top of the lasagna). Bake for 60 minutes or until mixture is bubbly.
Let stand 10 minutes (with this method you will never need to precook lasagna noodles again) Enjoy!