Prep 10 mins
Cook 15 mins

Can be made in under 30 minutes. Also very low in fat.
Directions
COMBINE chicken, water, broth, and chili powder in large saucepan. Bring to a boil. Reduce heat to low. Cover; cook for 8 minutes. Add corn. Uncover; cook for 5 minutes or until chicken is no longer pink. Stir in salsa; heat through. Sprinkle cheese over each serving. Serve with tortilla chips.
Most Helpful
I tried it and it was really good. It was very quick to make and quite tasty. Thanks for posting.
Delicious soup, and so quick to make you wouldn't believe. We used a vegetarian Morningstar Farms chicken substitute (didn't have to worry about it getting cooked either), 1 teaspoon chili powder and pepper jack cheese with no tortilla chips, but they would have complemented the soup nicely if we had. If you are pressed for time and want a meal packed with lots of flavor, this is it! Thank you.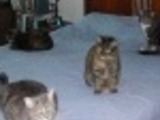 This was so yummy and fast. I am trying to eat healthy and I loved this. Thanks