Ingy1171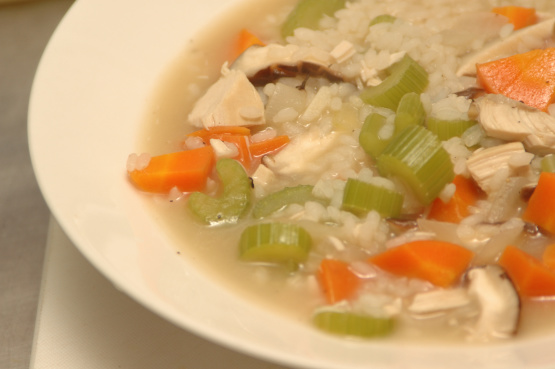 I do this one to use up leftover chicken. It's quick, easy, and makes a good hearty meal. We have along with chicken pot pie, which uses similar ingredients and is nearly as quick and easy.

It was great! My 4yr old won't eat the egg noodles we use in Chicken Noodle Soup and this worked out better. I added 2 cups of chicken broth instead of more water and bouillon cube.
Heat about 5 or 6 cups of water to a boil and add the carrot, celery, bouillon cube, and salt. Boil for about 5-10 minutes.
Add the chicken meat and rice. Also, if you have leftover chicken skin and fat from remaining meat, this adds a bit of flavor.
Periodically check rice for cooked texture. Once it is done or nearly done, slowly stir in the corn starch (or flour) to obtain a slightly thicker texture.
Add water or rice to desired quantity and texture. Adjust flavor with salt and pepper to desired. You can also add another bouillon cube for more flavor.