IngridH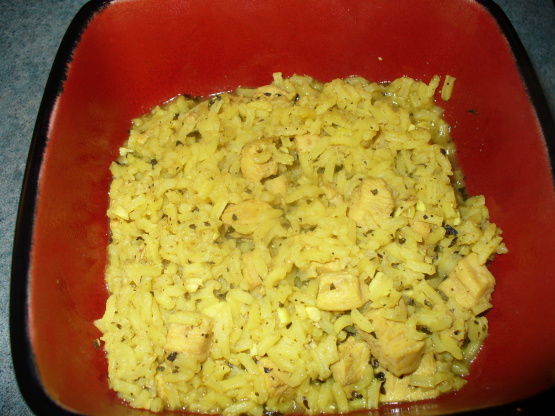 Alright, I'm a big fan of one-pot meals, and most of my meals I make for one person, because I live alone. So you can always make more if you want to! This one is really super easy though. Also, I'm talking about the SMALL bullion cubes, NOT the big ones! Also, I use low-sodium soy sauce

I was really excited about this recipe because it looked so easy, had interesting seasonings, and was scaled for just one person. My concern with it is the amount of water called for. I used the 3 cups, as called for, but ended up draining off 2 cups of liquid before serving (and taking the picture I posted). While I enjoyed the dish, I have to wonder how much flavor went down the drain with the extra liquid. I'd suggest trying this with just one cup of water, and adding a little salt along with the rice. Otherwise, a good easy meal for those nights when you are only cooking for one. Thanks for posting!
Add butter to a pot and sautee garlic, basil, soy sauce, pepper and chicken together until chicken is white (doesn't have to be white all the way through)
Add one cup of water, curry and the bullion cube and cover the pot and let it boil for about five minutes.
Add 2 more cups of water and rice, cover and boil until rice is done.