Chicken and Ramen Noodles
Nif_H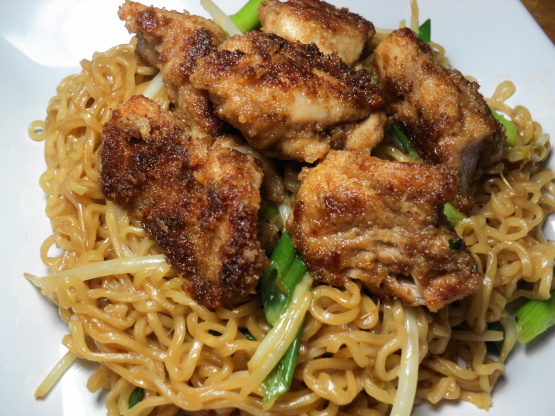 Another recipe from Taste of Home Pasta magazine with modifications.
I'm going with 4 stars because it's got great bones and is a great base to play around with flavors. Personally, I would cut the sugar and peanut butter in half (I'm not a healthy person, the sauce was just WAY too sweet for me!) and add about a tablespoon of sesame oil to the whole thing while it's mixing in the pan to add more of that 'Asian' flavor. My roommate tried the 'pork' flavor and BLECH! Definitely stick to chicken or oriental (I had oriental in mine, balanced out the sweetness a bit), don't stray into other animals!
In small bowl, combine first 4 ingredients.
Set aside.
In large resealable bag, place bread crumbs and 2 of the Ramen seasoning packets.
Combine.
Add chicken, one piece at a time and shake until coated.
In skillet on medium high heat, heat oil and cook chicken until done.
Set aside and keep warm.
Cook noodles
Add sauce to pan; cook and stir until heated through.
Drain noodles and add with sprouts/green onions to pan.
Toss to coat.
Serve with chicken.