Chicken and Poblano Quesadillas With Guacamole
rpgaymer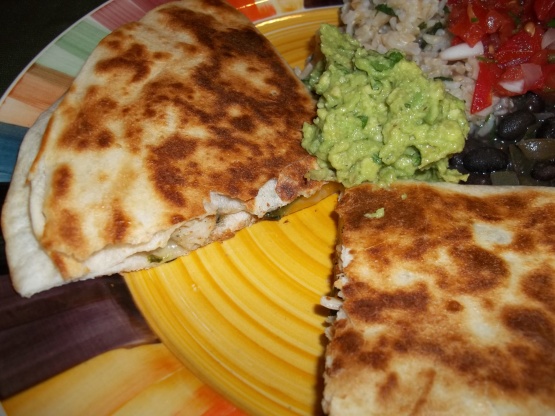 An appetizer recipe I found in my Weber's Charcoal Grilling cookbook that plan to try soon!! Time doesn't include the 3 hour marinating of the chicken. I haven't tried this recipe yet, but plan to grill some onions, along with the chicken and chiles.
So, so good! The marinade was the real star of the recipe, and I'm glad I took the time to marinate the chicken overnight- it really made a difference. I loved the guacamole as well. I don't have a grill, so I cooked the chicken on the foreman grill, and then later cooked the quesadillas on a frying pan coated with cooking spray. It worked fine, although I'd love to try making these on a grill! [Made & Reviewed for PRMR]
In a food processor, mince the garlic and jalapeno. Add the remaining paste ingredients, process until smooth. Smear the paste on all sides of the chicken breasts. Cover and refrigerate for 3 to 4 hours.
In a medium bowl, mash the avocado with the back of a fork and immediately add the lime juice; mix well. Roughly chop the garlic,
then sprinkle the salt over the garlic and, using the side of a knife, crush the garlic with the salt until you create smooth paste. Add the
garlic mixture, cilantro, and pepper to the bowl. Mix well.
Grill the chicken breasts over direct medium heat (350°F to 450°F), until the juices run clear and meat is opaque in the center, 10 to
15 minutes, turning once and swapping their positions as needed for even cooking. At the same time, grill the poblano chiles over direct medium heat until evenly charred on all sides, 7 to 9 minutes, turning as
needed. Remove from the grill and allow to cool. Cut the chicken breasts into thin slices. Peel away the charred skins from the chiles; roughly chop the flesh.
Lay the tortillas a single layer on a work surface. Evenly divide the chicken, chiles, and cheese over half of each tortilla. Fold the empty half of each tortilla over the filling, creating a half-circle, and press down firmly. Grill the quesadillas over direct medium heat until well marked
and the cheese has melted, 4 to 6 minutes, turning once and swapping their positions as needed for even cooking. Allow the quesadillas to cool for a minute or two before cutting into wedges.
Serve warm with the guacamole spooned on the top of each wedge.