Chicken and Peppers in Balsamic Vinegar Glaze
vrvrvr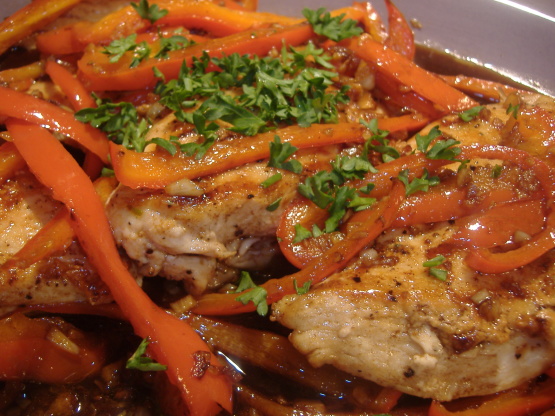 This is pretty straight forward and delicious. Don't skimp on the peppers because they're awfully good! You can substitute green peppers for the yellor or red, but the dish won't be as sweet.

I diced my chicken stir fry style and doubled the sauce because we really like sauce, but made everything else to spec. This was excellent! Thank you!
Pound chicken to 1/2" thickness. Sprinkle with salt and pepper.
Heat butter in a large skillet, add chicken and cook over med-high heat until cooked through, 5 minutes per side.
Meanwhile, cut peppers lengthwise into thin strips.
Mince garlic.
Transfer chicken to a serving platter.
Add peppers and garlic to skillet drippings, and cook until peppers are just tender, about 4 minutes, stirring frequently. Spoon peppers over chicken.
Add vinegar and honey to skillet, stir with wooden spoon until reduced to a glaze, about 1 minute. Spoon evenly over chicken and peppers.