Chicken and Penne Parmesan
Prep 15 mins
Cook 30 mins

Can also use broccoli in place of asparagus for those that don't like it. My 3 year old grandson gobbles this up. I had tried something similar in a restaurant that was to die for, so found something similar and changed it to my tastes.
Directions
In 5 quart saucepan over medium heat, melt butter; add chicken.
Cook until no longer pink.
Add broth; heat to boiling.
Add uncooked pasta and pepper, stirring to coat pasta with liquid.
Heat to boiling; reduce heat.
Cover; simmer 7 minutes, stirring every 2 minutes.
Add asparagus, continue to cook another 7 minutes or until pasta is tender and most liquid is absorbed.
Meanwhile, in medium bowl, stir together soup, milk and 1/2 cup parmesan cheese until smooth; stir into chicken mixture.
Heat until mixture just comes to a boil; sprinkle with remaining cheese.
Most Helpful
We didn't really care for this. I was disapointed in the outcome as well as the rest of my family. Maybe I did something wrong?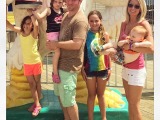 Loved it! I added fresh mushrooms( like I do in almost every dish) and green onions a few minutes after I threw in the asparagus. I also used low fat soup and added a splash of lemon juice at the very end. It was fantastic...I especially love that it all cooked in one pot! Genius. It's a keeper for sure! Thank you for sharing.
This was very good, also as leftovers. I also added some onions and garlic like a lot of others. I also cooked the noodles for about 5 minutes which I think helped too. Thanks for the great recipe, can't wait to make it again.