Chicken and Pear Skillet Supper (Diabetic)
ImPat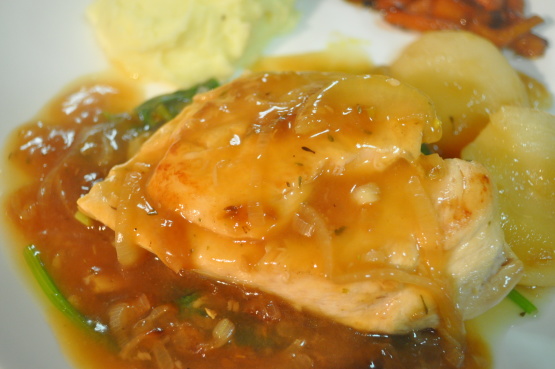 I have to say that I tried this with a bit of trepidation and was most pleasantly surprised! This is really excellent. I served it with unadorned brown rice and a simple green salad. Be sure to give it the full cooking to to allow the flavors to come together. I have company coming in a couple of weeks and this is going to be on the table fro them.

Top Review by ImPat
I only used 3 chicken breasts but kept all the other ingredients at the same level though may have used less spinach (about 3 cups) but would cut the dried thyme back by half (it was just a little too strong but I should have realized that - it is lemon thyme I have dried myself and is rather potent compared to the commercial). I did just add about 1/4 cup of water to the sauce as it seemed to be drying out to much in step 4. A lovely flavoural dinner enjoyed by all (served with recipe #232818 and recipe #230695 by **Jubes** as sides), thank you Annacia, made for 123 Hit Wonders.
Drain pears, reserving ¾ cup liquid; set aside. In large skillet, heat oil over medium-high heat until hot; cook chicken breasts until brown on both sides.
Remove and set aside. Add onion and garlic to skillet; cook and stir 3 to 5 minutes or until onion is crisp-tender.
In small bowl, combine reserved pear liquid, wine, soy sauce, cornstarch and thyme; mix until cornstarch is dissolved.
Gradually add to vegetables in skillet; cook and stir until mixture thickens. Return chicken to pan; cover and cook 10 minutes. Add pear slices to skillet.
Place spinach on top of pears and chicken in skillet; cover and cook 5 minutes or until spinach is wilted and chicken is cooked through.
Serve at once.