Pam-I-Am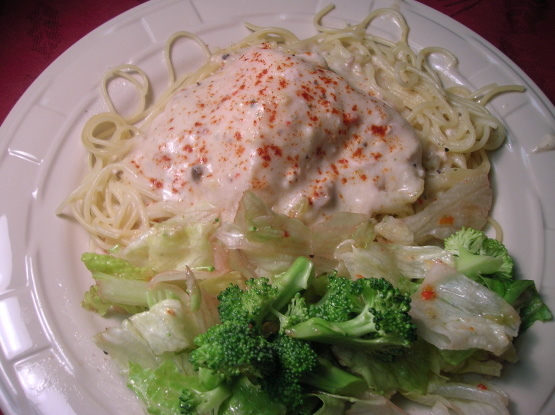 Top Review by MaMere
This is a WINNING recipe!! I made this substituting mascarpone for the cream cheese and used cut fresh chives. I also spooned the sauce over the chicken a few times during cooking. I had whole wheat penne rigate as my noodle dish, and boiled that with the leftover chicken broth. I paired this with garden fresh asparagus sauteed with bacon and lightly coated with balsamic vinegar. Thank you so much for sharing this wonderful recipe Gloria!
Melt margarine in a large sauce pan over low heat.
Add package of dressing mix.
Mix in broth and undiluted can of soup.
Blend in the cream cheese until smooth.
Reduce heat.
In a 13x9 baking dish, place chicken.
Pour hot sauce mixture over the chicken.
Bake in a hot 350 degree oven for 1 hour 0.15 minutes before end of baking time, cook pasta according to package directions and drain well.
Serve chicken dish by pouring sauce over hot pasta.