KateL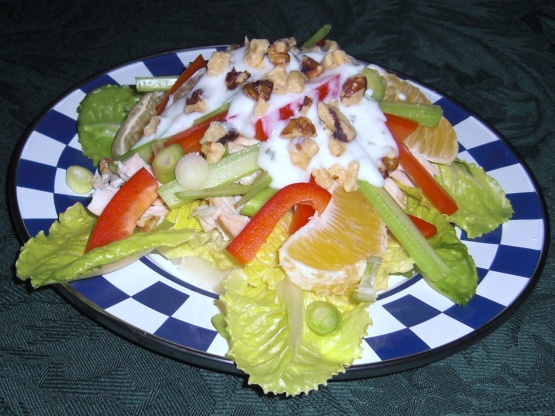 A refreshing and flavoursome summer salad, adapted from 'Quick Meals'. Vary the yoghurt according to taste preferences. If you want to add more colour variation, use a red capsicum instead of the yellow capsicum, or use ½ a red capsicum and ½ a yellow capsicum.

AWESOME! So many different textures. You've got a winner here, thanks!
Peel the oranges over a small bowl so as to catch – and reserve - the juice; cut the flesh into segments and place in a separate bowl.
Stir in the cooked, shredded chicken, celery, spring onions and capsicum, and season to taste with salt and freshly ground black pepper.
Making the dressing: In a small bowl, mix all the ingredients together, including any reserved orange juice, until well-combined.
Arrange the salad leaves and chicken mixture between four plates and pour the dressing over the salad leaves and chicken mixture; and divide the pecan nuts between the four plates.