Chicken and Noodles (Crock Pot)
PetsRus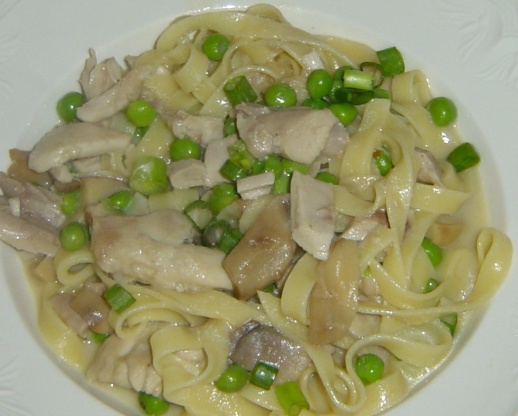 A very simple recipe that's comforting when the weather is cold and that even the young kids in my family will eat. I found the recipe on the internet but I believe it originally came from Taste of Home. It makes a lot, I'm guessing on the number of servings!

I intended on preparing this recipe, but forgot it was for the crock pot, so I made it on the stove when I got home from work. I used all the ingredients listed except for the salt, plus 2 additional cups of chicken broth since I figured it would boil down a bit on the stove. I used a 10 oz package of frozen Reames wide noodles, and broke 4 left over lasagne noodles in the mixture as well. I cooked it on the stove for about 40 minutes. Very nice comfort food dish; a bit salty. Next time I will use sodium free chicken brother in addtion,
3 -4

lbs chicken pieces (I use 4 chicken breasts with bones, skinned)

4

cups chicken broth or 4 cups water
1⁄4-1⁄2 cup butter (I use 1/2 stick)

1

(10 3/4 ounce) can condensed cream of chicken soup (I use Campbell's Healthy Request, no MSG)

1

(10 ounce) packageextra wide egg noodles (I use the big bag)
Put all ingredients, except noodles, in crock pot.
Cook on low 8-10 hours or on high 3 1/2-4 1/2 hours.
(I cook just until the chicken is done, about 5 hours on low).
Remove chicken from broth.
I like to run a slotted spoon through the broth to make sure no little bones have escaped.
Add salt to taste.
Turn cooker to high and add noodles when broth is hot and bubbly.
Cook 30-45 minutes, or until noodles are done, stirring occasionally.
Meanwhile, remove meat from bones.
Add bite-size pieces to broth and noodles.