Chicken and Noodle Stir Fry
JustJanS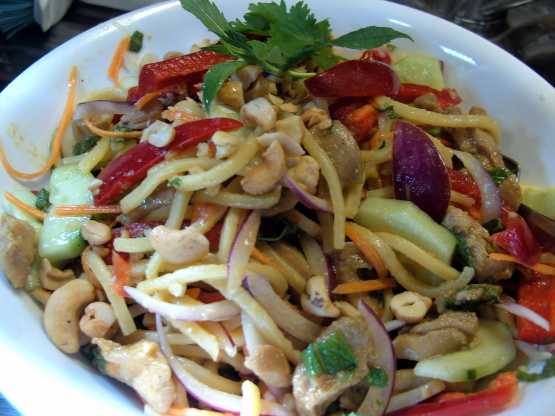 This started its life as a recipe for a beef and noodle salad—served cold, but because of missing ingredients and my general forgetfulness, I arrived at this dish. It was gobbled up by all present—even the very fussy 96-year-old. I've posted the recipe here because the guests who ate it want to recreate it. It's tasty and fast to make—and not too spicy. It's also versatile. You can double or triple it, and you can leave out ingredients, add extra ones and even switch from beef to chicken. Oyster sauce is sweet, so be careful about adding the brown sugar, too.

Peggy,you know the recipe that morphed from cold to hot, well, it morphed back to a cold recipe again. I marinated and cooked enough chicken for the two of us in enough marinade for 4, chopped enough salad veg (which I didn't cook and included a carrot) for 4, heated up enough noodles for 2 (then cooled them under cold water) and poured over enough sauce for 4 (have I lost you yet?). Well the end result was almost the best dish I've cooked in ages. This is so yummy, if I had to pick a dish I had to eat for the rest of my life, I'd seriously consider this one!! I did add ina garlic clove to the sauce.
Combine the sliced chicken, peanut oil, oyster sauce and curry powder and brown sugar (if used) in a bowl. If possible, leave this mixture (covered and in the fridge) to marinate for a few hours or overnight. But if time is short, just keep going.
Make the cooking sauce -- made up of the last six ingredients listed. If you keep the meat overnight, make and keep the sauce (separate and refrigerated) overnight, too.
Stir fry the chicken, in batches. Set aside.
Stir fry the vegetables—cucumber, onion, bell pepper and chili—until just tender.
Add the mint, nuts and cooking sauce, and cook for one minute.
Add the chicken and heat until warm again.
In a separate pan, cover the noodles with boiling water for a few minutes—until they are hot.
Drain the noodles and combine with chicken and cooking sauce mixture.
Enjoy!