Chicken and Mushrooms in a Lemon Sauce
WiGal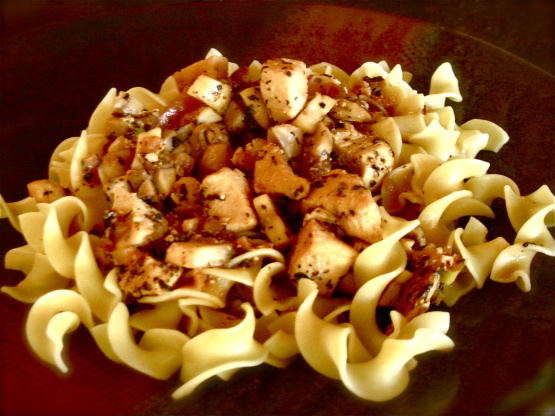 An easy to fix dish in one skillet. It tastes even better the next day. You can serve it on your favorite pasta. I like it over penne or bowtie noodles. I made several changes including substituting mushrooms for the artichokes to a lemon chicken with artichoke heart recipe from Food Network

Top Review by WiGal
Made with wine option. Think taste is fine-garlic right amount so often recipes overdo the garlic-- but color is brown, my pic makes it look too red but it is brown. My plate affected colors. Surprised me that recipe was brown-the sauteing of onion in first part is part of that. Simple to do though. Made for Spring PAC 2012. Thank you for sharing, rliang.
Heat oil in a large frying pan over medium-high heat. When it shimmers, add onion and garlic, season with salt and freshly ground black pepper, and cook until golden, about 4 minutes. Add chicken and cook, stirring rarely, until well browned on all sides, about 12 minutes. Add mushrooms and cook until slightly broken down, about 5 minutes.
Add wine if using if not using wine add total 1 cup of chicken broth, , and the 1/4 cup lemon juice if using dried basil leaves add at this time and mix well and scrape the bottom of the pan to incorporate any browned bits. Cook until alcohol smell is cooked off and sauce is slightly reduced, about 5 minutes . Remove from heat, stir in basil leaves if using fresh and lemon zest and serve over your favorite pasta.