wizkid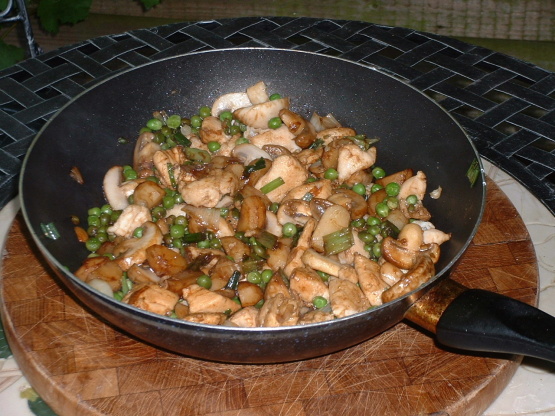 This is really easy to make, and makes an absolutely delicious chinese meal if served with rice. Chopping ingredients takes all the time here, as it is cooked really quickly. It comes from 'Chinese Cooking' by Deh-ta-Hsuing. This is a book I have had for 20 years or more, and I have made this recipie many, many times.

This turned out very good, though I did do some switching and changing. I added about 1 teaspoon grated ginger to the chicken/egg white mixture. I added some pre-cooked snow peas at the end, instead of the peas. I did season the chicken with the given 1/2 teaspoon salt, but I used only 1/2 teaspoon additional salt, 1/2 tablespoon soy sauce, and 1/2 teaspoon sugar. I added about 1 tablespoon Chinese wine. I do think that for me, this dish needs the addition of ginger and/or garlic. I will play with it again. Thank you for sharing this recipe with us.
Mix the cornstarch, egg white and 1/2 teaspoon of the salt.
Put the slices of chicken into this mixture.
Heat half the oil in a non-stick wok (do not allow it to get too hot).
Stir fry the chicken until lightly coloured.
Remove meat with a perforated spoon.
Heat the remaining oil in the wok until smoking.
Toss in the spring onions.
Then add the mushrooms, water chestnuts and peas.
Add the remaining salt and stir for approximately 5 minutes.
Add the chicken slices, soy sauce and sugar.
Cook together for 1 minute.
Serve.