Rita1652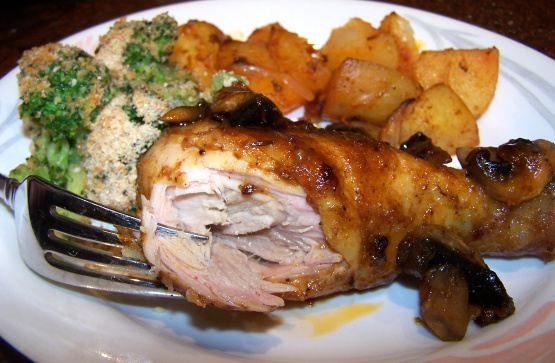 This is a great dish. I have been having trouble finding sauterne around here lately, but dry vermouth will be good.

This is a great chicken dish! I added a little garlic and put some carrot chunks in for good measure. I used all thighs (with skin removed). Didn't have fresh mushrooms, but a can of button mushrooms worked fine. This has a super flavor. Served it with a side of fresh green beans. I will make this again! Thanks papergoddess!
Melt butter in 13" X 9" baking pan.
Stir in thyme, paprika, salt, and pepper.
Dredge chicken pieces in flour, then swish in butter (both sides), until coated.
Arrange them in baking dish.
Bake in hot oven (400 degrees) until browned, about 30 minutes.
Reduce heat to 350 degrees, turn over chicken pieces, and add mushrooms and wine.
Cover dish with foil and continue baking about 30 minutes longer.