Chicken and Mushroom Penne
Pneuma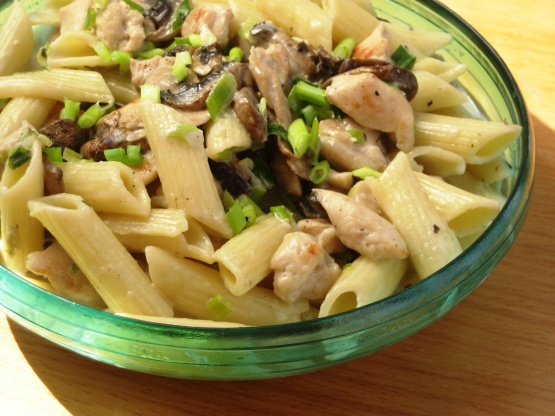 Felt like a creamy chicken pasta so I made this. It's tasty and takes no time at all. Serve with a salad or some bruschetta and you have a delicious meal.

Top Review by Pneuma
Oh,my! It's so delicious! I thought at first while preparing it that the onions seemed too much but wow, the outcome's sooo good! I've always loved cream with mushrooms! I omitted the salt since the chicken broth had it, but after tasting it, DH said, "it's really good!" then added the salt not knowing the original asks for it. So I guess, can't mess with this recipe coz it's PERFECT as it is! Thanks for sharing this, Rosina_J! Found a keeper! Made for Joey for Aus/NZ Recipe Swap #19.
Mix chicken, salt, pepper and stock powder together in bowl.
Add chicken mix to oil and fry till golden brown.
Add onions and mushrooms and sauté for 5 minutes.
Add cream to chicken stir gently.
Mix Pasta into chicken and add the corn starch mixed with water, stir gently till incorporated.
Reduce heat and simmer gently till Pasta is warmed through.
Season to taste. Enjoy.