Chicken and Mushroom Patties (Kotlety or Katleti)
Prep 10 mins
Cook 20 mins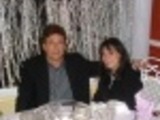 These chicken and mushroom kotleti (Russian meat cakes) are so juicy and delicious. They're healthier than the average chicken patty since they are loaded with mushrooms. These patties are perfect with mashed potatoes and pickles. You can also serve them as sliders (mini chicken burgers) – pickles on the side. You may also choose to wolf these down with a bowl of buttered noodles and a pickle. Part of the secret to juicer patties appears to be in the cooking method. Covering them while sautéing makes them turn out much juicier and the flavors meld together just right.
Directions
Saute mushrooms over med/high heat until softened and lightly browned, then mince them in a food processor or put them through the meat grinder. You can also finely chop cooked mushrooms by hand if you're feeling adventurous.
In a large bowl, combine: 1 lb ground chicken, your cooked & finely chopped mushrooms, grated onion, 2 eggs, 1/2 cup bread crumbs and 1 1/2 tsp salt and 1/2 tsp pepper (or to taste).
Using an ice cream scoop, place one scoop of the mixture at a time into the flour, then dredge it on both sides and used your hands to create oval patties, tapping off excess flour. If you're making sliders, make them round like mini burgers.
4. Heat 2-3 tbsp of oil in a nonstick skillet. Once oil is hot, add the fritters. Cover and cook until golden on both sides. Cook about 4 minutes on the first side and 2-3 minutes on the next. Wipe your skillet with a paper towel between batches and add more oil as needed. Remove to a plate and serve warm.
Reviews
Most Helpful
Awesome aroma was driving hubby nuts. Delicious! Mushrooms paired with ground turkey are perfect. Cut mushrooms tiny first then browned. Served as main dish (4 per serving) atop couscous medley. Thanks Jackie for posting. Made for Culinary Quest.

Dee-licious! Like a previous poster, I also used regular bread crumbs instead of panko and made into patties. Really easy, and excellent instructions. The whole family gave these 2 thumbs up so they go into our regular roster. Thanks for giving me more cooking options!

Seriously amazing, one of the best things I've eaten in a long time. Made patties and put on a light rye with lettuce. I love the fact that it's half meat and half mushrooms. I sauteed the mushrooms in half butter half olive oil and got a nice brown to them. The cooking method keeps these so moist. I made into 2 different patties, one about 1 inch thick and one about 2 inches, I didn't know how thick to make them to ensure they cooked through. I used the suggested timing and they both came out perfect, so I think there is a fair amount of leeway. Thank you so much, one of my favorite recipes in the Culinary Quest Tour 2014!!