Chicken and Mushroom Pasta
Bev I Am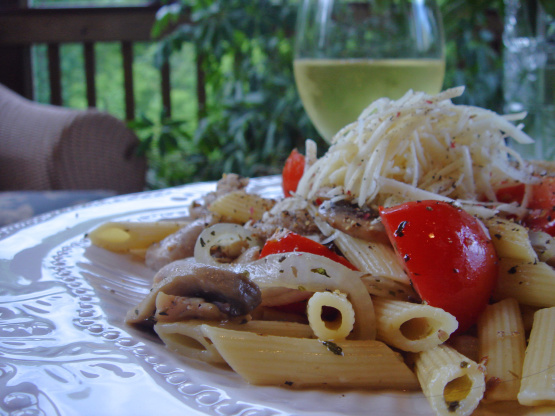 Non-marinara based pasta dish found on the web. Could easily be adapted to different pastas -- whatever one has on hand.
First of all, it took me about one hour to finish this meal, not half an hour as stated. Next, chicken should be fried/cooked more than 5 minutes. I ended up with not so well cooked meat. Next, you should add more salt than stated in the recipe. Beside all of this, a nice recipe. A man.
Cook pasta according to package directions. Drain and return to saucepan and keep warm.
Meanwhile, season chicken with salt and pepper. Heat 1 tablespoon of the oil in a large skillet over medium-high heat. Add chicken and garlic and cook, stirring, about 5 minutes or until chicken is tender and no longer pink. Remove from skillet and keep warm.
Add remaining olive oil to skillet. Cook mushrooms and onion in hot olive oil until just tender, stirring occasionally.
Carefully add chicken broth and white wine.
Bring to boiling, reduce heat and boil gently, uncovered, about 2 minutes or until liquid is reduced by half.
Remove skillet from heat. Add cooked pasta, chicken, cherry tomatoes, basil and oregano to mushroom mixture and toss to coat.
Transfer to a serving dish and sprinkle with Parmesan cheese and freshly ground pepper.