Chicken and Kale Stew (Crock Pot, Paleo)
Tyler M.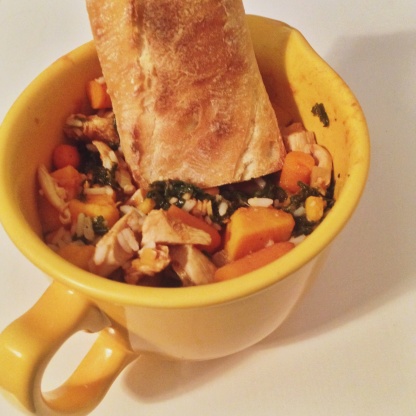 adapted from Quarry Spoon blog.
Wash the chicken and cut into bite-size pieces. Place into the pot of a slow cooker.
On top of the chicken add the diced onion, cubed carrots, cubed sweet potato, garlic, chicken broth, tomato paste, balsamic vinegar, mustard, and bay leaves. Stir to mix everything together. Turn the slow cooker on.
high heat for 3 to 4 hours, or until the carrots and sweet potato are tender.
Add the kale and stir to combine; cook for 1 hour more. Taste the stew and season with sea salt and pepper. Remove the bay leaves, and serve.
If you don't like your chicken chunky, you can add the chicken breasts whole and shred the chicken at the end of cooking by using a fork or the back of a spoon.