loof751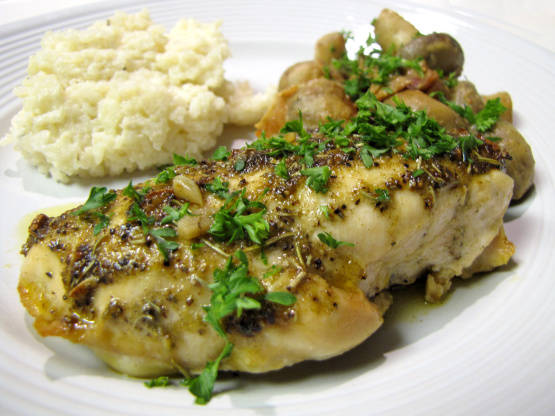 This is a simple and healthy main course. You could adjust the seasonings to your preference.

Lovely chicken recipe! I used onion powder instead of grated onions, and boneless skinless chicken breasts. The chicken was very moist and flavorful. I wasn't sure about the hot sauce but it was a great addition. Thanks for sharing the recipe!
Place chicken in an 11x7x2-inch baking dish coated with nonstick spray.
Whisk oil, onion, garlic, thyme, salt, rosemary, pepper, sage, marjoram and pepper sauce. Pour over chicken.
Bake, uncovered at 425 degrees, basting occasionally, 30-40 minutes or until juices run clear. Meat thermometer should read 170 degrees.
Sprinkle with parsley. Drizzle with juices to serve.