Chicken and Herb White Pizza
ImPat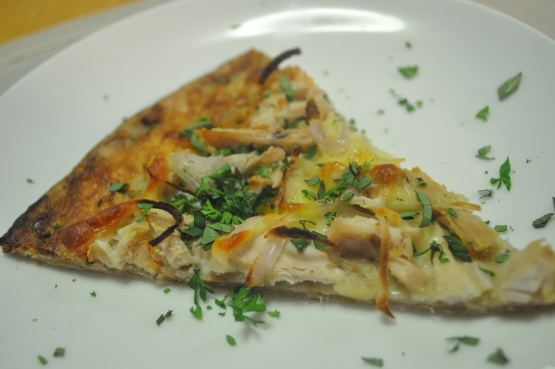 quick making pizza full of chicken, cheese, and spices.

Great pizza. I used one crust left over from thin pizza crust and a partial roasted chicken breast. I baked the crust for eight min., then put on toppings for another 10 min. DH ate alll but the one slice I had. Very good with the garlic and parmesan flavors in the sauce. The directions said to preheat to 350 but then cook at 450 so I used 450 throughout, preheated my pizza stone and baking.
Preheat oven to 350 degrees.
Place dough in a bowl coated with cooking spray, let dough stand , covered for 15 minutes.
Melt butter in a medium saucepan over medium heat. Add garlic and cook 30 seconds, stirring constantly.
Add flour and pepper, cook 1 minute, stirring constantly with a whisk.
Gradually add milk, stirring constantly with a whisk.
Cook 3 minutes or until thick and bubbly, stirring constantly with a whisk.
Remove from heat adding cheese until cheese melts.
Sprinkle a baking sheet with cornmeal, roll dough into a 12 inch circle on a prepared baking sheet.
Spread white sauce over dough, leaving a 1/2 inch border.
Top with chicken, and onion.
Bake at 450 degrees on bottom oven rack for 17 minutes or until crust is golden.
Sprinkle with herbs.