Chicken and Green Onion Dumplings W/ Balsamic Soy Dipping Sauce
RonaNZ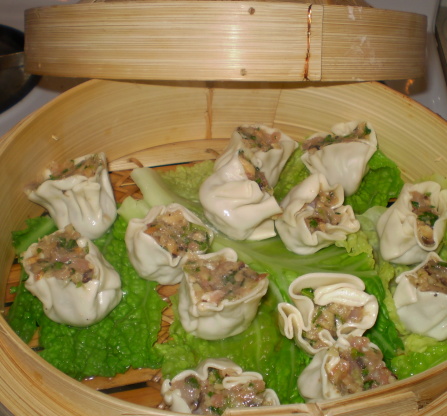 I found a number of recipes from Hawthorne Lane restaurant in SF. These dumplings just make me want to cook them now! Would be a good recipe to freeze as well

I scaled this down to make about eight dumplings and it worked just fine. I didnt have mushroom soy sauce so I put some mushrooms in the blender and mixed the sauce together that way to see if I could get an extra mushroom taste and it seemed to work quite well since the dipping sauce was excellent. Took about eight minutes to cook, but I may just be overly catious when it comes to cooking meat. Great recipe!
2

lbs ground chicken (dark meat is good)

10

large shiitake mushroom caps, minced

2

teaspoons minced ginger
2⁄3 bunch scallion, chopped fine

1

tablespoon cilantro, minced
to taste salt and pepper

1

(340 g) package dumpling wrappers

4

savoyed cabbage leaves, blanched

Sauce

1⁄4 cup balsamic vinegar
1⁄4 cup soy sauce
1⁄4 cup mushroom soy sauce

1

tablespoon grated ginger

1

fluid ounce Worcestershire sauce
make the dipping sauce:.
Combine all ingredients and allow to stand for 30 minutes.
make the dumplings:.
Remove the stems from the mushrooms and dice the caps very small. Saute in a drop of olive oil and season with salt and pepper. After the mushrooms are cool, combine the remaining ingredients in a bowl and mix until the mixture becomes sticky.
Lay the wrappers on a clean work surface and spoon one heaping teaspoon of the filling onto the center of the wrapper. Spread the filling out to the edges then pick the wrapper up and fold the edges in toward each other. Push the dumpling down onto the work surface to flatten the bottom. Repeat for all wrappers. (they have an open top).
Place the dumplings into a steamer, the kind that goes over a wok works well, on a cabbage leaf to prevent them from sticking. and steam for six minutes or until the chicken is fully cooked. Serve on a platter with the dipping sauce in a small bowl.