Chicken and Green Beans in Spicy Peanut Sauce!
TXOLDHAM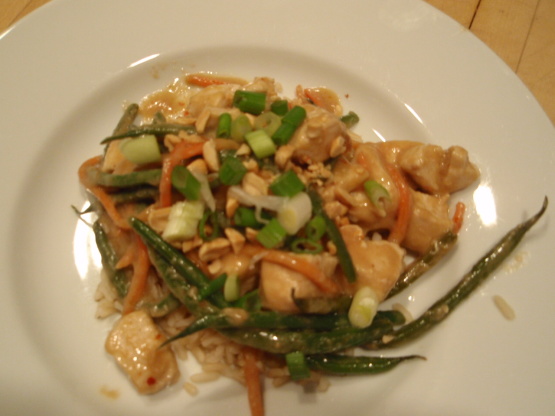 Gotta love this dish. One of our all time favorites. COOKS NOTES: Substitute baby spinach for green beans. We also like to serve with basmati rice.
I've never had anything like this before and am not usually a fan of peanut sauce. This was great! I used sriracha instead of the chilli sauce and left everything the same. I also mixed the sauce in the same pan after I cooked the chicken (took the chicken out)In the last step it says to mix the rice with the sauce, I didn't do that, I mixed the sauce with the chicken and served it over brown rice.
Bring the rice and water to boil in a pot. Reduce heat to low, cover, and simmer 20 minutes.
Place green beans in a pot fitted with a steamer basket over boiling water, and steam 10 minutes, or until tender but crisp.
Heat the oil in a skillet, and cook the chicken 5 minutes on each side, or until juices run clear.
Mix the chicken broth, peanut butter, honey, soy sauce, chile paste, lemon juice in a saucepan over medium heat.
Cook and stir 5 minutes, until slightly thickened.
Mix in the green beans and rice.
Serve over rice. Garnish with green onions and peanuts.