Chicken and Green Beans in Red Curry
jrusk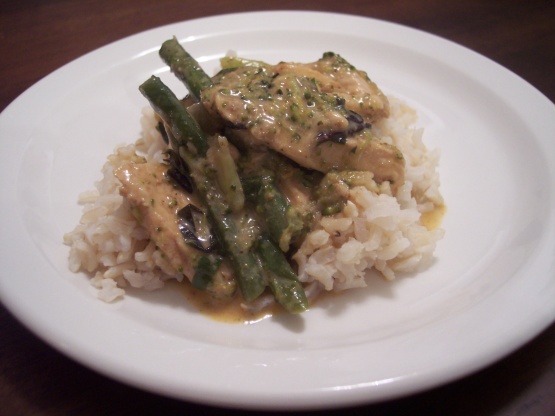 I really enjoy Thai food. This recipe is so easy and flavorful. In the Thai dishes I've eaten green beans are usually served very crisp. I generally don't leave mine crisp but in Thai cooking it just seems to work. I use this recipe to use up leftover vegetables too; steamed broccoli is a great addition.
Heat oil in large pan.
Add curry paste and stir until bubbling.
Add onions, garlic, and hot chili sauce. Saute 1-2 minutes.
Add chicken slices, brown on one side. Flip chicken and add green beans on top cooking for 2-3 minutes. Optional: Cover to help cook green beans.
Completely mix in green beans.
Add coconut milk and fish sauce Simmer for 5-10 minutes.
Test green beans to your personal crunch preference.
Mix in basil leaves right before serving.
Serve over brown rice.
Note: If I'm not serving this over rice I'll mix in cornstarch to thicken the sauce.