Chicken and Dumplings (Low-Fat)
Nimz1466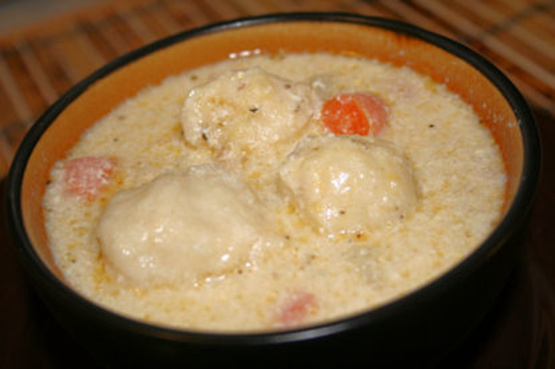 This is real easy and yummy. Hope you like it as much as my family does.
The bacon and potatoes in a chicken and dumplings dish was a new twist for me. I like the bacon addition; the potatoes not so much. For a low fat rendition of a typically high-fat recipe, I enjoyed this. The half-and-half and bacon bits gave the broth a richer taste and mouthfeel. I made as directed and my chicken got a little rubbery so perhaps it could be cooked separately and added at the end. As a previous reviewer noted, I needed more broth to have enough to cook the dumplings – about 2 cups or so. It was a quick fix and a great meal on a cold day. Thanks for posting!
Coat large dutch oven with cooking spray.
Add potatoes, onion, celery, carrots and chicken, cook for 15 minutes, stirring occasionally.
Pour in chicken broth; season with poultry seasoning, salt and pepper simmer all together for 15 minutes.
Pour in half-and-half and bring to a boil; add bacon bits.
In a medium bowl, combine biscuit mix with milk and mix well (dough should be thick). Drop tablespoon sizes of dough into boiling mixture; reduce heat and simmer for 10 minutes uncovered, then another 10 minutes covered. (Note: Do not stir while simmering, or dumplings will break apart). Serve hot.